Over 120 people attended the launch of the latest History Moments television series at the National Air Force Museum of Canada in Trenton, Ontario on Friday, October 14, 2016.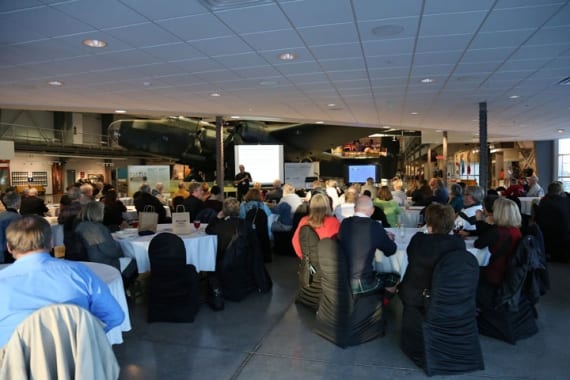 With a restored, vintage Halifax bomber serving as a backdrop to the event, 12 more short stories of Eastern Ontario history were shown on a large screen to a crowd of VIPs, municipal officials, members of local heritage organizations, and residents.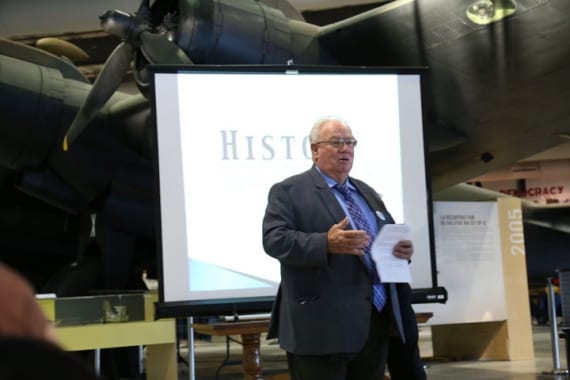 Mayor Jim Harrison of the City of Quinte West welcomed visitors to the museum and event noting the rich history of his community and the area. Several stories in the series showcased the military history of Trenton including the construction of the Trent-Severn Canal by British engineers in the 1830s, the building of CFB Trenton as a federal government "make work" project during the Depression Years, and the role of the base as an air training facility for Commonwealth pilots during the Second World War.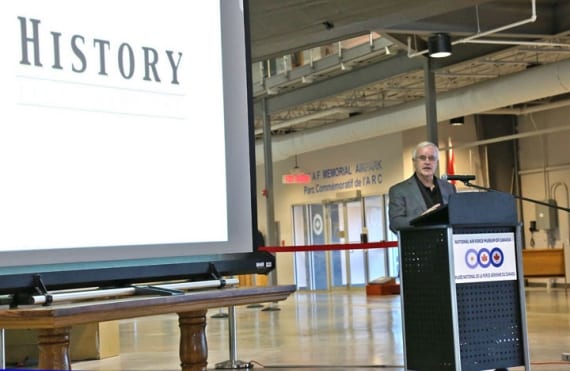 "We're very pleased to have been able to launch our series in such an historic place as the National Air Force Museum of Canada, and for the continued support from sponsors like the City of Quinte West," says series' creator, Peter Lockyer of History Lives Here Inc. "Every year our team of researchers, and writers go on a journey of discovery as we search the collections of area archives, libraries, historical societies, and museums to tell these wonderful stories.  As we approach Canada's 150th birthday in 2017, I can't think of a better gift to Canadians than to tell them these stories from our past."
The current series will air on CKWS TV in Kingston, and CHEX TV in Peterborough over the next weeks before its re-broadcast on TVCogeco cable stations and before movies at several participating area theatres.