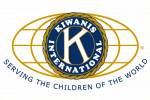 This year marks the 90th anniversary of the Kiwanis Club of Belleville.
As part of its anniversary events, the club is celebrating area history by partnering in the launch of a history series showcasing the rich past of Hastings and Prince Edward Counties. The series launch will take place at The Empire Theatre in Belleville at 7 pm. on Saturday, September 29th with a second launch at 7 pm. and at The Regent Theatre in Picton on Monday, October 15th, 2012.
The series, called History Moments, features short stories of early settlement, prominent people and significant events, which have profoundly shaped the past of the Quinte region. History Lives Here Inc., a heritage communications company in Picton, has pioneered the concept in Prince Edward County producing an annual series over the past three years, which plays before movies at The Regent Theatre, is distributed into area schools, libraries, archives, and museums as an educational resource, retailed at local shops, and broadcast online on community partner websites to promote increased tourism and to enhance the profile of local heritage organizations.
"We wanted to celebrate our history as part of our anniversary plans, " says Kiwanis President Ed Hawman. "This series is a means of celebrating more broadly with the community by showcasing these wonderful stories drawn from the past."
"This is popular history," says series producer Peter Lockyer. " The series is designed to engage the community in its past – to awaken us to the history that is all around us, and the enormous economic potential of promoting our history to the world. The past can be a big part of the future if we work together to promote it as a suite of products retailed to heritage travelers."
This year's series will profile pioneer author Suzanna Moodie; the story of Eleanor May Bowden, the British servant girl at the Philip's house (now Glanmore National Historic Site), one of the home children from poor English families sent to Canada and Australia to help populate these countries; the history of one of Canada's oldest community newspapers, the Belleville Intelligencer; the company town of Pt. Anne and the Village of Wellington celebrating its 150th anniversary this year; and the story of the Fox Sisters from Consecon in Prince Edward County, two clairvoyant young women who helped shape the spiritualist movement in the United States in the 1850s.
Area businesses such as Black Prince Winery, Essroc Cement, Lafarge Canada, The Belleville Intelligencer, and the City of Belleville and the Corporation of the County of Prince Edward are sponsoring the series. Project proceeds help support the work of the Kiwanis Club of Belleville.
To purchase tickets to the launch events, contact:
The Empire Theatre (613)969-0099
http://www.theempiretheatre.com
The Regent Theatre (613)476-8416
http://www.theregenttheatre.org
The Kiwanis Club of Belleville
http://www.kiwanisclubofbelleville.com