Thank you for sharing this day with us. My name is Peter Lockyer and I have a company called History Lives Here Inc.
We're here to celebrate the third series of History Moments.   
The History Moments are short, video vignettes on the local history of Prince Edward County that play before movies at The Regent, are broadcast on Cogeco cablevision, distributed into area schools, archives, libraries and museums, are used as part of the interpretative program to the over 550,000 annual visitors to The Sandbanks Provincial Park, are retailed in over 30 local stores, and broadcast online on the company website www.historyliveshere.ca.   
Starting this week, the series will be featured at another new event – the first Picton Picturefest, a cinema festival here at the Regent and other venues in the County. I like this idea – and I especially like that it is being organized by people a whole lot younger than I am – something I'd like to discuss with you today.  
The History Moments series is produced in association with The Glenwood Cemetery, The Museums of Prince Edward County, and The Regent Theatre. It's one of several initiatives we have undertaken together to develop a history product line. We have our Gallows and Graveyards Walking Tours of Picton now in their 4th year, which takes place Friday and Saturday nights at 6:30 throughout the summer. Friday night's tour takes you through the home and church of Rev. William Macaulay who was a titan of his time here in The County…and we also take you into the old gallows where we hanged two men in June 1884.   
Saturday night's tour takes place at Glenwood Cemetery.  There's a special walking tour tonight if you would like to take a tour of the restored Chapel at the Glenwood Cemetery and tour the grounds. Glenwood is actually a wonderful heritage restoration success story. So we invite you to come visit this evening and throughout the summer on Saturday nights to hear about what we've been doing over the last decade to restore this spectacular 62-acre heritage Victorian cemetery.  
And we have our fall/winter lectures series that we have developed. We're working on our line up of speakers, but I can tell you that author Peter C. Newman has agreed to be one of our speakers this year. And we're also partnering this year with Libby Crombie of Royal Lepage Proalliance Realty and Stephanie Lynn who have developed their Heritage Christmas House tour, which will take place on Sunday, December 4th.  
So we have started to develop a range of heritage products. We are doing all this to increase community awareness of the rich history that is all around us. Our thinking is that if you know about this heritage, then you will care about it, and become engaged in efforts to preserve it.  
Today's launch of the third History Moments series is free.  
It is for two reasons. The first is that the partners in the project all feel quite strongly that nobody is every going to pay money to hear me speak.  
But the second reason is because we want to tell you that heritage isn't free. It's come as a result of an enormous effort by those who have gone before us…. It's been built at great cost by the small deeds and great endeavours over the decades by people who believed – against great odds – that they could start over in a new land, build their community and build a nation.  
I think we owe them something. We owe them an equal effort to remember them…to tell their stories…and to safeguard rather than squander – the inheritance they left us.  
Last year was not a good year for heritage in Prince Edward County. In March 2009 we lost a block of our Main Street in Picton to a new development yet to be built a year later. It's located next to the block of gracious old houses we tore down in the 1970s to build a mini mall. And it was just across the street from the old Methodist Church built in 1875 that was demolished last summer. We all watched with a certain horror and morbid fascination as the building was first mortally wounded with its side gouged out…and then ultimately ripped down.  
I remember telling you then at our launch last year that on the worst of days I was always cheered by the fact that the pyramids are safe…. as long as they stay in Egypt because in Prince Edward County we would have ripped down those piles of rocks a long time ago.  
It's a year later. We have had a municipal election, and heritage was actually an election issue. I believe that's the first time that has ever happened here. And so the election is over, but the problem is not.  
In fact, we have just a short distance from here, two buildings along our Main Street that can be considered as part of the "endangered species list."  
The Royal Hotel was built in the early 1880s in anticipation of a new upscale traveler that would come to visit as a result of the completion of the railway. That didn't happen because the railroad went under…and the Royal soon followed. And yet under new management, the Royal did become a successful hotel and an enduring icon of our Main Street. Now it's future is again very uncertain. The roof is in bad shape…and the building is under bankruptcy protection.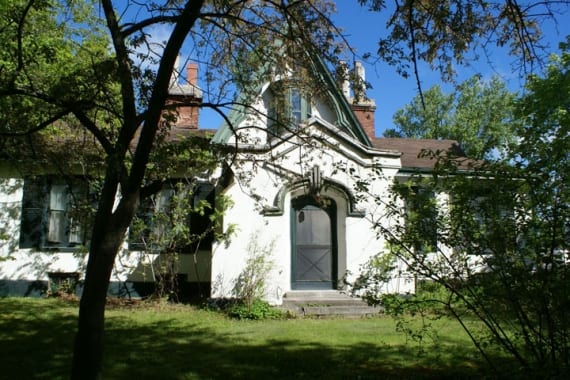 A second building is the Downes House behind the Bank of Montreal across from the cenotaph. We produced a History Moments last year about this house built by Capt. John Pepper Downes in the 1850s. Downes was the town clerk back then, but he was also a talented artist who left us 12 remarkable pencil sketches of early life here. The building is in poor shape…and unless it can have a future that justifies the expense of restoring it, it too faces a grim future.  
I would add a third building that we are not yet talking about. It's the massive United Church in Picton that has – like most churches – a declining congregation, and considerable overhead. I used to ask my Uncle Jack Ward "What's going to happen to the church?" He said last year around this time that there wasn't a problem because there were 4-5 people like him who could afford to drop $100 – $200,000 into the building. My Uncle Jack died last winter…now there are only 3-4 people with the kind of deep pockets to keep the building going.   Last winter, as well, one of our municipal buildings – a town hall in Demorestville – unexpectedly had its roof collapse.   
If you tear down…or lose by neglect…all the special places in your community, you have to ask, "What's so special about my community?" And the sad answer to that is "Nothing." Heritage has an incalculable cost when you lose it because it is never, ever coming back.  
We too are aging along with our buildings. I'm not as old as the Royal… although from time to time, my son thinks my roof could use a little repair.  
I could name you a dozen organizations in Prince Edward County on the verge of folding. It's just demographics really…. the 9.8 million boomers and their parents are getting older.  
Municipal governments should be concerned about this because the thousands of volunteers hours that are given – for free – each year to maintain heritage properties like The Regent, Glenwood Cemetery, our five museums, and other properties, are not going be there much longer…. The millions of dollars raised by volunteers in communities all across Canada for a wide range of worthy causes – for free – may not be there in a few years either… The big question is "What's going to happen when you and I can't do the work we do anymore?  
I believe it's a great folly to think that things will always be the way they've always been, just because they have always been. We may very soon witness a sort of collapse of communities as all these groups…and the heritage properties they maintain…can't go on any longer.   So what's to be done?  
I believe we have to begin having that a candid discussion about the future. There is simply no way that this county…or any other – can afford the cost of heritage preservation in the future…. unless…. we all begin to embrace profound, systemic change.   
Most heritage organizations are small, fragile, volunteer groups. They may not have  staff…and they have no money. And they have no plan for the future. They are "heritage beggars" dependent upon dwindling government grants, hard-pressed local governments which view them as "municipal loss leaders," and the charity of their communities to support them.   I have spent much of my life working with non-profit organizations as an Executive Director, board member and chair, volunteer and consultant. Over the last decade, I have worked with a volunteer board to restore a heritage property, The Glenwood Cemetery in Picton.  So I have lived the concept I am presenting to you today. And the concept is this:   Every community has its stories to tell.  These are often hidden away in the collections of museums, libraries, cemeteries and archives. But this "hidden history" can be transformed into "popular history" – goods and services that meet the worldwide consumer demand for history and heritage. In this way, history and heritage can be considered a commodity that can be mined and refined, processed and packaged, marketed, distributed and retailed just like any other product.   Heritage organizations are storehouses of history – "history factories" – that can become "profit centres" if only we developed the untapped potential lying dormant in our communities to develop a "heritage economy."   
The Marketplace for History   History is one of the top three reasons why people travel after family and friends.   
The History Channel links advertisers with a consumer demographic – 9.8 million boomers and their parents who are now engaged in the greatest transfer of wealth in the history of the world. This is news to my Mother, but I am telling you this is happening.   
Every month, 68 million people around the world Google the word "history." They're looking for history…and we have it. And we have the means to reach them through new technologies.  
Gettysburg, PA makes $91 million/year and has created nearly 2,500 jobs from the 1.2 million people who visit annually. Every year, they tell the same story  of three days of history forged in the 1860s during the Civil War….and make $91 million dollars. 
So why don't we tell our stories to the world and develop a "heritage economy"?  
History can be expressed in a great many ways. We need to develop our own line of heritage products such as:  
– Specialty wines and foodstuffs
– Videos, books, plays, music, lectures, and bus, walking, and historic house tours, and crafts Could we make quilts that tell the story of the War of 1812? Or the story of John A. Macdonald's time in Picton in the 1830s to celebrate his 200th birthday in 2015?  
Could we make reproductions of artifacts, which celebrate Samuel Champlain's visit here almost 400 years ago? I asked my friend artist Bruce Milan this week whether he could make an astolabe as a product we would sell to celebrate Champlain's visit. I told him it didn't have to work. I don't think this early navigational equipment worked all that well for Sam. Let's face in those days, you either turned left or right and you discovered some place. If you went straight ahead, you just fell off the edge of the world…in which case, you discovered space.  
– Could we have period events (re-enactments for the War of 1812 bicentennial, the 400th anniversary of Champlain's visit in 2015, and the 200th birthday of Sir John A. Macdonald in 2015)  
– Could we work with the small army of volunteers who each year bring you the Picton Fair? The fair was 175 years old last year. We did a History Moment about that. But it won't have a 200th birthday. The fair is brought to you by an older group of volunteers…could we work with them to transform the fair into an 1880s period fair so we are all in costume, we empty the museums of displays from the period, we ask our chefs to prepare period meals, our wineries and breweries to make heritage wines and beers to celebrate the event…. We have Taste The County help with the marketing…. Could we in this way ensure the fair has a secure future as yet another of our heritage products.  
– Could we help support The Macdonald Project?  
John A. Macdonald spent his early years in the Picton area and as a teenager, he practiced law there in the 1830s. The Macdonald Project is an initiative to erect a bronze sculpture of him in Picton during the 200th anniversary of his birth in 2015. This project and Macdonald's birthday have the potential to be a major local, regional and national event.    
– Can we support The Miss Supertest Celebration
– August, 6,7th, 8th 2011?   50 years ago this August, the Canadian race boat Miss Supertest captured her third
– and last
– victory in the Harmsworth international races held in Picton.   
On August 6,7,8th we will celebrate this sports history with the launch of a Canada Post commemorative stamp honouring the boat, and a weekend of boat displays and activities. I'm going to show you an excerpt of a documentary we are making that will play at The Regent as part of that anniversary weekend.    
I believe heritage is ultimately about money. If it's money that is causing us to lose our heritage, can we make money out of heritage? The answer is yes.   
We have infinite supplies of the raw resource – history;   
We have access to a skilled labour force, our creative community, who can express history and heritage in a wide range of unique, popular history products;   
We have a retail system already in place – our museums, archives, libraries, schools, and cemeteries throughout Eastern Ontario; 
We have an existing marketing arm in tourism organizations like the Chamber of Commerce, Taste The County, and other groups already marketing this special place;   
And we have a worldwide marketplace for history… in addition to the marketplace here – the 700,000 people who visit us every year.  Why don't we sell them $100 worth of history during their stay, and develop a heritage economy worth over $70 million dollars annually?  
The profits we make from our heritage economy can be re-invested in our heritage infrastructure through a revolving venture capital loan fund that provides long-term, low-interest loans to developers like the owners of the Royal Hotel and the Downes House so that they can create jobs, a tax base, and restore a heritage building.  
Until we can find ways to finance ourselves, we will always be heritage beggars. We will watch our landmark buildings and special places disappear and be unable to intervene; our organizations will simply age and tire and fade from view in the coming decade; and we will not be a factor in shaping an alternative vision for our communities that embraces and respects the past. We will –at best – watch from the sidelines.   
We need to think bigger. No amount of bake sales, silent auctions, or bottle drives is ever going to save a heritage building.   
We need to act collectively to share limited resources. We need to complement each other rather than compete. We need to become the sum of our parts rather than remain as isolated and largely irrelevant organizations.   
We can't continue to be the Sleepy Hollow of history, the Rip Van Winkle of heritage any longer. We need to awaken to the enormous potential of developing our own business and a heritage economy. That's why history and heritage matters.   So as you watch this year's History Moments series, know that there was a high cost to the heritage we have…and that we need to find a way to safeguard – rather than squander – this great legacy.    
The History Moments are all sponsored by local businesses and organizations. I would like to thank our 2011 sponsors:  
1.The Adolphustown-Fredericksburg Heritage Society
2. The Black Prince Winery
3. The Glenwood Cemetery
4. The Hastings Prince Edward District School Board
5. Loch Sloy Business Park
6. Lafarge North America  – Bath Plant
7. The Loyalist Parkway Association
8.  The Mohawk Learning and Cultural Centre 
9. The Museums of PEC
10. The Picton Business Improvement Association
11. The Picton Gazette
12. The Sandbanks Provincial Park and The Friends of The Sandbanks    
I would also like to thank the people I work with to bring you this series each year – Lynn Pickering is co-producer and writer, Sandy Foreman does all our photography, Jacques Dumas of Ottawa is our audio specialist and French producer, Adam McLaren and Ben Quaiff help with the camera work, Daniela Testolini of Dolphin Media in Ottawa is our editor, Precision Transfer Technologies in Ottawa provide duplication services, and They Integrated of Belleville look after our website.   
I have to be creative in managing them because I ask them to do the impossible all the time. Last year, I can tell you that morale picked up appreciably when I announced that the Black Prince Winery was one of our new sponsors. They were a bit disappointed this year when my plans to have a History Moments on the cheese industry of Prince Edward County didn't happen. It's another wonderful story…but their thinking was that now that we have all this wine, we really should have some cheese to go with it. Well…maybe next year!  
These are very talented people…. and when you watch this, you will see their work, not just mine. Here now is the 2011 History Moments series.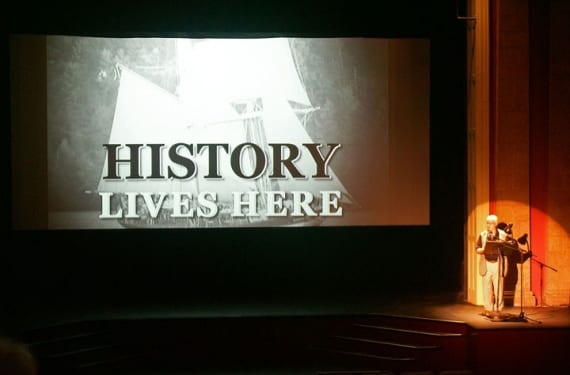 PLAY HISTORY MOMENTS
RUNS: APPROX.24 MINUTES  
We've been working on something else lately as well – a documentary that will play at The Regent on Monday, August 8th as part of the Miss Supertest celebration that takes place that weekend. I hope you'll participate in this celebration because this is a once-in-a-lifetime event, the launch of a commemorative stamp honouring Canadian sports history that was made here 50 year ago this summer. I'd like to thank another member of our creative community, Barry Silverthorn of The Electric Wallpaper Company, for his video work in taping the Toronto Boat Show last January…and driving through a wild snowstorm with us to get there.  
PLAY MISS SUPERTEST PROMO
RUNS: 5:36    
The Miss Supertest event is a celebration of our water heritage. We hope to make this into an annual event. It's all part of the "big picture" thinking so that we don't value heritage so much as a  "warm and fuzzy" – a vague, cultural asset…. an afterthought…a last priority…the luxury we can never afford.  Instead, we need to consider it as an untapped commodity –" a hidden wealth" that can drive our local economies because heritage is ultimately about money…. and big money at that.  
So some of us have started the work that needs to be done… We're the little company with the big idea…and we're partnering with heritage organizations in our community …and others…. to make this happen. But the work of the few needs to become the work of many if we are to succeed. We all need to become pioneers for another period.  
I think this begins with public education…. with community engagement….with product development so we develop a heritage economy. We need to make money. We need to make History.  
I'd like to invite you to join us now for a reception featuring History Lives Here wine made for us by the Black Prince Winery…. and don't forget our walking tour tonight at 6:30 at The Glenwood Cemetery. And thank you very much for being with us today.