Experience the great age of sail onboard the tall ship, the St. Lawrence II, as part of a once-in-a–lifetime sailing adventure on Sunday, June 15th and Monday, June 16th 2014.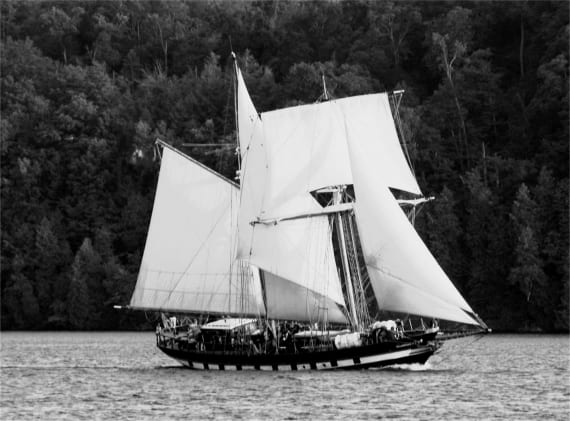 Your travel adventure includes a half day onboard this magnificent 70 foot square rigger as it departs Napanee at noon on Sunday, June 15th making its way under full sail to the quaint harbour in Picton, Ontario. Hear the rich maritime history of the region while helping to navigate this great ship on its journey. 
A three-course dinner created by acclaimed chef Michael Sullivan, and overnight stay at the elegant Merrill Inn brings the day to a close.  After a sumptuous hot breakfast at the inn on Monday morning, an experienced guide from History Lives Here Inc. will take you by bus on a customized tour of Prince Edward County to some of its unique heritage sites, with lunch at the Agrarian Restaurant and shopping in the charming village of Bloomfield before a visit to the Black Prince Winery. Return transportation to Napanee is provided by Franklin Coach Lines.
The all-inclusive tour price is  $545/pp plus tax based on double occupancy. This two-day tall ship adventure is limited to 24 adults so book soon! 
To book tickets and for further information, contact:
Brigantine Inc., 53 Yonge St., Kingston, ON K7M 6G4
Tel.: 613 544–5175
Email: info@brigantine.ca
Website: www.brigantine.ca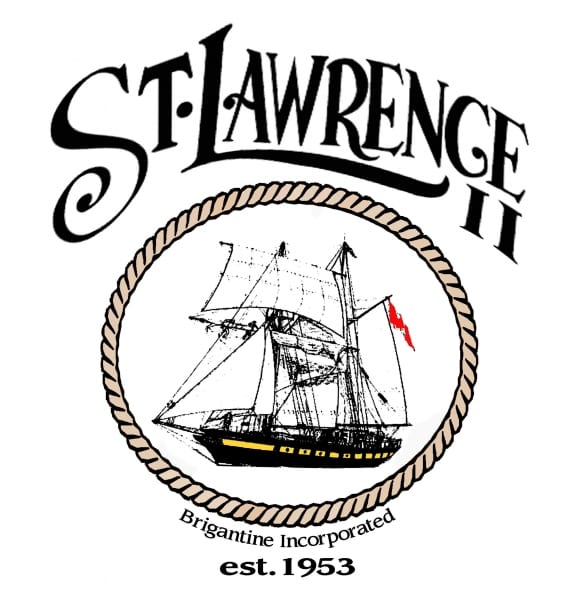 Tall Ship Itinerary Cruise
June 15/16, 2014
As part of the inaugural Napanee Riverfront Festival taking place on the weekend of June 13-15 2014 (www.downtownnapanee.com), Brigantine Inc., the owners of the tall ship the St. Lawrence II, and History Lives Here Inc., are offering a sailing adventure cruise from Napanee to the nearby community of Picton, Ontario. 
Experience life onboard this great ship as part of the crew learning timeless nautical skills from master mariners. Hear the rich maritime history of the area from historical author, Dave More, the manager of Brigantine Inc., as you re-live the era when tall ships, their crews and cargoes made the area a dominant commercial centre within a young country. Discover the history of Prince Edward County while staying at one of the area's finest inns, savouring fine food, and visiting one of the local vineyards in Canada's newest wine region.
Sunday, June 15 2014
Noon departure from Napanee for Picton
Departure is from the Waterfront River Pub and Terrace, 22 Water St. in Napanee
Lunch will be served onboard
6 pm arrival at Picton with transport to the elegant Merrill Inn for dinner and overnight stay [www.merrillinn.com]
Monday, June 16 2014 8 am–9 am … Breakfast
9 am … Bus pick up by Franklin Coach Lines [www.franklincoachlines.com]
9 am–1130 am … Heritage tour with local historian Peter Lockyer of History Lives Here Inc. [www.historyliveshere.ca]
1200 pm … Lunch at the Agrarian Restaurant, Bloomfield [www.AgrarianPEC.ca]
1 pm–2 pm … Shopping in the village of Bloomfield [www.bloomfieldontario.ca]
2:30–4 pm … Wine tasting at The Black Prince Winery [www.blackprincewinery.com]
4 pm … Bus transportation to Napanee
4:30–5 pm … Arrive Napanee
All bookings for this adventure cruise are through:
Brigantine Inc.,
53 Yonge St., Kingston, ON K7M 6G4
Tel.: 613 544–5175
Email: info@brigantine.ca
Website: www.brigantine.ca