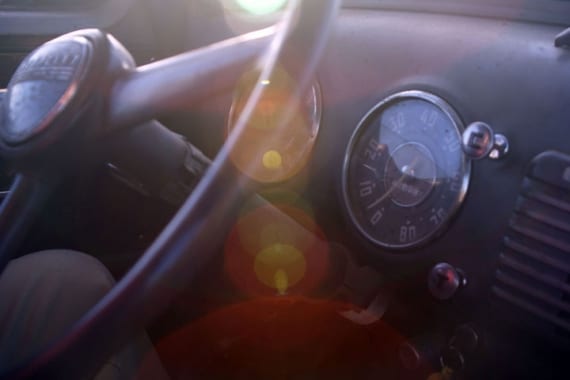 My first car was a green 1954 Chevrolet. My Dad bought it for $75.00 largely I think to save his own vehicle from further damage by a teenager with uncertain driving skills. It was solid, occasionally temperamental and gave me a new found independence. Most of all, it had an engine that emitted a deep throaty sound that I have never forgotten.
Much later in life, I purchased another old Chev, a 1952 standard model. It too was green. You didn't get a big choice in colours in the 1950 models. They seemed to be green, blue or black. Take it or leave it.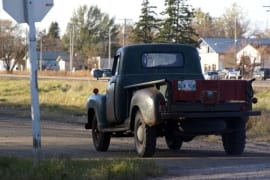 But these old cars of my youth were long gone as I started out in October 2009 for the West. I drove. Sandy did the navigation as we crossed into the U.S. and drove along the underbelly of the Great Lakes towards our destination – Whitemouth, Manitoba, a tiny hamlet in the sourtheast region of Manitoba close to the Ontario border about an hour and a half from Winnipeg.
There's not a lot in Whitemouth except Sandy's cousin Ken Barnard and his wife Marie, who are certainly worth visiting. But we had driven there to pick up a 1952 3/4 ton truck Ken had picked up for me from a local farmer whose father had bought the truck new at Carter Motors Sales in Winnipeg decades ago.
The truck was big, long, dented from its years of service… and green. Within a few minutes of arrival, I had turned the key, pulled out the trombone choke and pressed the starter on the floor to start her up so Ken and I could go for a ride. Once again, I heard that deep, throaty rumbling of the motor made all the more rumbling by a muffler that would need to be replaced. Ken and I were perched high up on the bench seat of the truck as I shifted gears and we bounced down a dirt road. It was magic…. magic because it started up immediately, I didn't strip the gears and most of all, we were able to stop as we approached Ken's house again – my first indication that the brakes needed repair.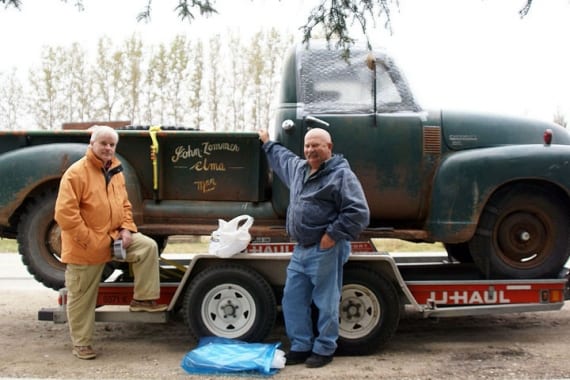 We didn't stay long in Whitemouth. Just enough for a visit, a trip to Winnipeg to pick up a trailer and a half day of loading and securing the old truck onto the U-Haul. I wasn't certain how long it would take to drive back home dragging a car trailer. What I didn't know is just how dangerous it can be.
A few hours later we were cresting a hill east of Kenora. As we started the descent down the hill, we began to pick up speed and the trailer was swerving, whipping my truck all across the road. The force was amazing… and scary. But we were lucky. It was a three-lane highway with no oncoming cars and the truckers behind me slowed at the first signs of trouble. Somehow, I managed to get the truck and trailer going forward in the same direction again and we drove silently into Dryden.
The staff at the Dryden Holiday Express was exceptionally helpful. They helped us track down the local U-Haul dealer on a Sunday. He helped us locate a local trucking firm who could transport the old truck to Toronto, and coordinate a pick up with a Picton trucking firm. We got back on Thursday after a safe and leisurely trip home. The old truck was delivered to the farm on Friday morning. Now it sits stored for the winter waiting for the spring. To be continued…