The Life Story of French Naval Commander Rene – Hippolyte Laforce
Kingston author David More showcased the remarkable life of mariner, explorer and merchant Rene-Hippolyte Laforce (1728 – 1802) at another of the History Nights At The Regent lectures on Monday, March 3, 2014.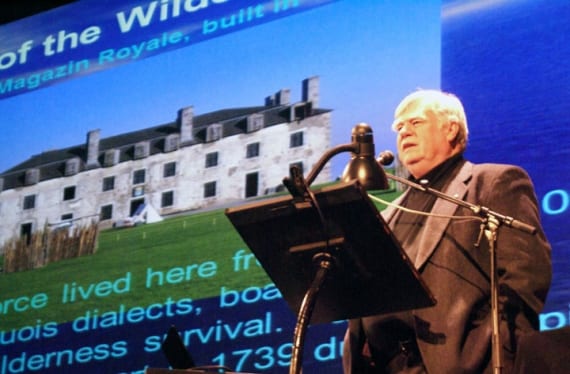 Laforce is a shadow within Canadian history. Born in Quebec City as one of ten children, he spent his early years at Fort Niagara near the present-day site of Youngstown, New York where his father served as the king's storekeeper. By 1751, Laforce was engaged onboard ships trading between Quebec City, Fort Louisbourg and Cape Breton Island. His familiarity with the route proved invaluable later in life when he escaped a winter shipwreck on Cape Breton Island and walked to Louisbourg.
At the outbreak of the Seven Years' War, Laforce took up a new job as commander of the French flotilla on Lake Ontario defeating the British in a skirmish near Oswego in the only naval battle between the two powers. The battle would be a game changer for his career as the British later hired him to fight for them against American forces upon the outbreak of the American Revolution. He patrolled the St. Lawrence as part of British efforts to protect this vital supply line, and rose steadily through the ranks to build and command the vessel Seneca, to assume command of the fleet on Lake Ontario, and to oversee shipbuilding operations at the current site of Maitland, Ontario and at the major British base on Carleton Island. 
In between, Laforce was a trader making regular runs to the West Indies, and conducted marine surveys of the St. Lawrence River and Lake Ontario. He died in February 1802 in Quebec City at the age of 74 and is buried there largely forgotten except for people like David More. More has written several books loosely fashioned on the life of Laforce. 
History Lives Here Inc. sponsors this series of lectures in association with The Black Prince Winery, The Merrill Inn, and The Regent Theatre.