HISTORY NIGHTS RETURN TO THE REGENT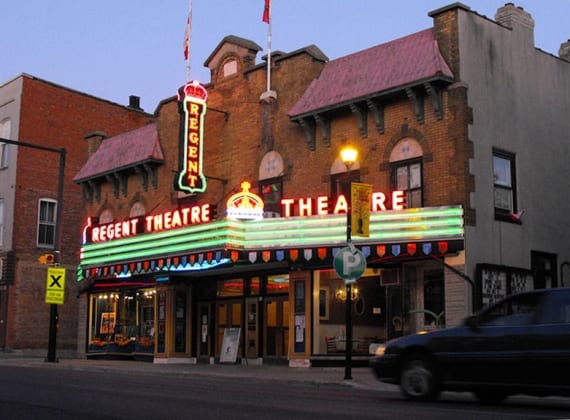 The popular History Nights At The Regent lecture series will begin Monday, January 6, 2014 at 7 PM at The Regent Theatre with a lecture on the movie years in Trenton, the period 1917 – 1934 when this small community was the "Hollywood North" of Canada.
Peggy Dymond Leavey, author of a book on the movie industry in Trenton, will discuss how the industry settled in this unlikely place, the boom and bust cycle of film companies that established there, and the legacy of the heady days when stars and starlets rubbed shoulders with local residents appearing as extras and stagehands in blockbuster productions.
The lecture is the first in a series of three monthly Monday night lectures on historical themes. 
On Monday, February 3 2014, Skyline Hotel executive Sean Billing will discuss the business case for history – his company's purchase and return to Canada of The S.S. Keewatin, a luxury liner built by the Canadian Pacific Railway to carry their passengers across Georgian Bay and Lake Superior to their rail terminals at the present town of Thunder Bay. The hotel chain purchased the vessel from an American collector to return The Keeewatin in 2012 to its original homeport in Port McNicoll near Barrie, Ontario. 
The series concludes on Monday, March 3rd 2014 with Kingston author, David More, discussing the life and career of naval commander Captain Rene –Hippolyte Laforce, the Commodore of the French Navy on Lake Ontario in the 1750s. The British so admired his skills they hired him to fight with them during the American Revolution.
History Lives Here Inc. sponsors the History Nights At The Regent series in association with The Merrill Inn and The Regent Theatre. Tickets are $15 for adults and $5 for students including HST. 
For ticket information, contact The Regent Theatre, 224 Main St. in Picton
Tel: 613 – 476 – 8416   www.The RegentTheatre.org