In many communities across the country this year, Canada Day will be a subdued event.
This is not a bad thing. It creates an occasion for all of us to be reflective about this nation and the work yet to be done, while we also mourn with Indigenous peoples the tragic loss of the many children who attended residential schools. It is a heartbreaking history that starkly showcases the difference between what we aspire to be as a nation and sadly, what has happened in the past. Perhaps in this moment there is an opportunity to have compassion and caring guide us forward along another path that is true reconciliation in action. 
Much of the heated debate of our times is centered on the complex legacy of the country's first Prime Minister, Sir John A. Macdonald. Statues of him have been vandalized, torn down, moved to other locations, and sometimes put into permanent storage across the country. But is it realistic to blame one person like Macdonald as one stop shopping for everything that is wrong with the past
Macdonald is not my hero. He is not my villain. I have always described him as an imperfect man living in imperfect times – just like us. But he is a dominant historical figure. Here we are – 130 years after his death – still talking about him in an animated, passionate fashion. That's because it is not possible to talk about the history of my hometown, the neighbouring Quinte region, the country he helped create, and the many contemporary indigenous issues without talking about Macdonald
I want to speak on behalf of history. I believe we need more history, not less; we need more public education, not less; and we need to harness the very best of us – not the least or worst – as we examine our complicated past, learn from it, and shape a new way forward.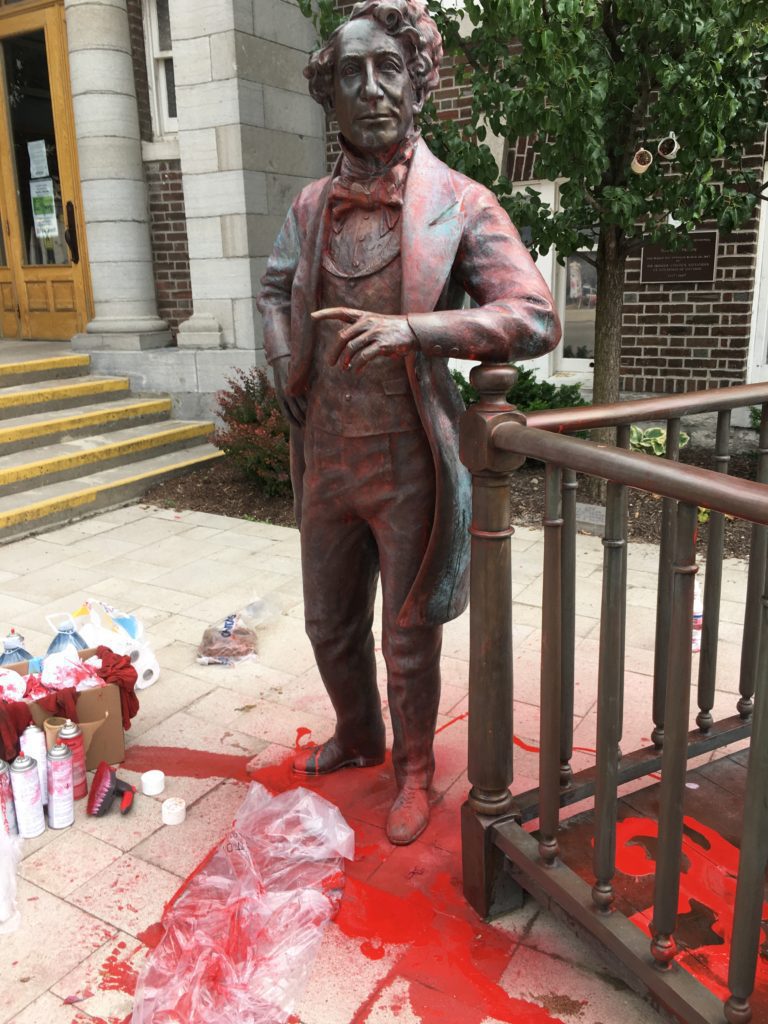 I do not see what good will come from hiding Macdonald away. We will not change a moment of history. We will not address the priorities of Indigenous peoples today. We will have mistaken rage and revenge for reconciliation. And we will have all failed because amidst all the blaming and shaming, we will have not heard the opportunities to do something extraordinary – to forge a new way forward that unites us rather than divides us, and is based on mutual respect, compassion, and true partnership in shaping the future of this country. 
I have been a journalist all my life – a job that has taken me across Canada, Europe, and to other parts of the world. I've reported on many stories involving Indigenous peoples and minority groups in this country and elsewhere; I worked at Indian Affairs on the land claim of the Labrador Inuit, was a radio and tv trainer for First Nations Communication Societies, was part of the Special House of Commons Sub- Committee on Indian Self-government in the 1980s that recommended the elimination of the Department of Indian affairs and the Indian Act, and worked as the Interim Manager of the journalism program at the First Nations Technical Institute in Tyendinaga when I first returned to my hometown of Picton over 20 years ago. 
I've been telling stories of Prince Edward County for 40 years, and was part of the Macdonald Project, the volunteer group, which raised the funds to gift the Macdonald statue to our municipality in 2015 with the widespread support of the community.
Should we not tell our stories? Or tell only some stories? Or some parts of some stories? And who will decide? I believe we should tell all the stories as completely as we can because they are the story of us. And I am saddened by what this heated debate has become because it is a wasted opportunity to do something remarkable…together.
These are extraordinary times. So, I am asking all of us to do something extraordinary.
I am asking that we release ourselves from being perpetual prisoners of the past and focus on efforts to learn from the past while going forward together towards a different, better future. Let's create solutions that unite us rather than divide us; that are constructive rather than destructive; that bring out the best of us – not the least or worst. A key element in this journey is to stop endlessly blaming others for what happened in the past. That's easy. What we really need to do is live in our own time seizing ownership of these issues to create a better Canada.  That's the hard work that needs to be done. We need to be better – not bitter.
In the longstanding Canadian tradition of compromise, The City of Kingston, Ontario has removed their statue of Macdonald to his gravesite at Catarqui Cemetery, a national historic site. I hope the work is not vandalized further at its new location as his grave has been desecrated multiple times in the past. In my hometown, local council has temporarily removed the statue in Picton into storage until a final decision is made in March 2022. I believe it too could be moved from its current location in front of our Carnegie Library to our old courthouse, one of the sites originally considered for this art work by Ruth Abernethy, one of Canada's foremost artists. I am hoping that its re-location will bring an end to the vicious campaign that has so bitterly divided the community. Big picture, we need to move onto bringing about profound, systemic change in our everyday relationship with our Indigenous neighbours – enduring, enlightened, and lasting change. We can start by listening rather than shouting. And we can be thoughtful rather than vindictive.
We are all heartbroken by the discovery of bodies at the Kamloops residential school and other former church -run schools across the country. Canadians strongly support reconciliation. But I agree with the viewpoint of many Indigenous leaders like Senator Murray Sinclair of the Truth and Reconciliation Commission, Melissa Mburki of the Treaty 4 Nation in Saskatchewan, Chief R. Donald Maracle of Tyendinaga Mohawk Territory, and David Chartrand, President of the Manitoba Metis. "We can't hide this history," Chartrand says. "We need to tell the truth about that history and I think that would be more healing than trying to rip down statues."
We need to be fearless in facing the past. And we need to have an unshakeable belief in each other in shaping a better future. This is bold, challenging, tough work just as it must have been in Macdonald's time to overcome the bitter divides of French-English, Catholic – Protestant solitudes. But he did. Now let's see what we can achieve together in our time.