The Tyrannosaurus Rex roamed the forested river valleys of North America 65 million years ago – the dominant predator of its age. Up to 12 metres long and six metres tall, scientists estimate the creature could consume up to 230 kilograms (500 pounds) of meat in a single bite.  At that rate, it would certainly have taken several villages to raise this child.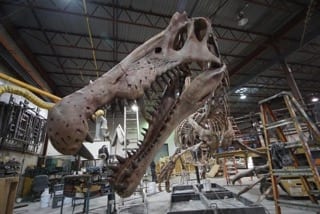 But while the T-Rex in the cavernous warehouse of the Research Casting International plant in Trenton, Ontario still looks fierce, this one is a re-creation – a skeletal model destined for display at a special exhibit opening this year at the Tokyo Museum. Our job was to photograph the T-Rex in its assembled state before the model was taken apart for shipment to its new home so the museum could use the photos to promote the exhibit.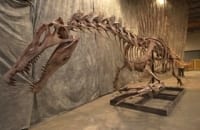 Making reproductions of dinosaurs is a rare skill set.  But that's the day job of the 20-person staff of Research Casting International, one of four companies in the world capable of undertaking this work.  Under the direction of owner, Peter May, who used to work at Toronto's Royal Ontario Museum, the company has several projects underway at any given time for museums the world over including the prestigious Smithsonian Institute in the United States. In their own way, they are making history.