The cairn describing The Gunshot Treaty at the busy intersection of Highway 33 and Portage Road, marks crossroads in history. It was here on September 23, 1787 that hundreds of Aboriginal peo­ples from the Mississauga nation met with representatives of King George III to negotiate a historic land deal known as The Gunshot Treaty.
The treaty was spurred by the urgent British need to find land for thousands of United Empire Loyalists looking to re-settle after their flight from their homes in The United States during and after the American Revolution. The Gunshot Treaty was one of a number of hastily arranged ne­gotiations with Aboriginal peoples along Lake Ontario, drawn up to secure title to land for survey and settlement, and to develop alternative water routes for commercial travel and military use. The Gunshot Treaty would be­come the 13th in this series of land negotiations.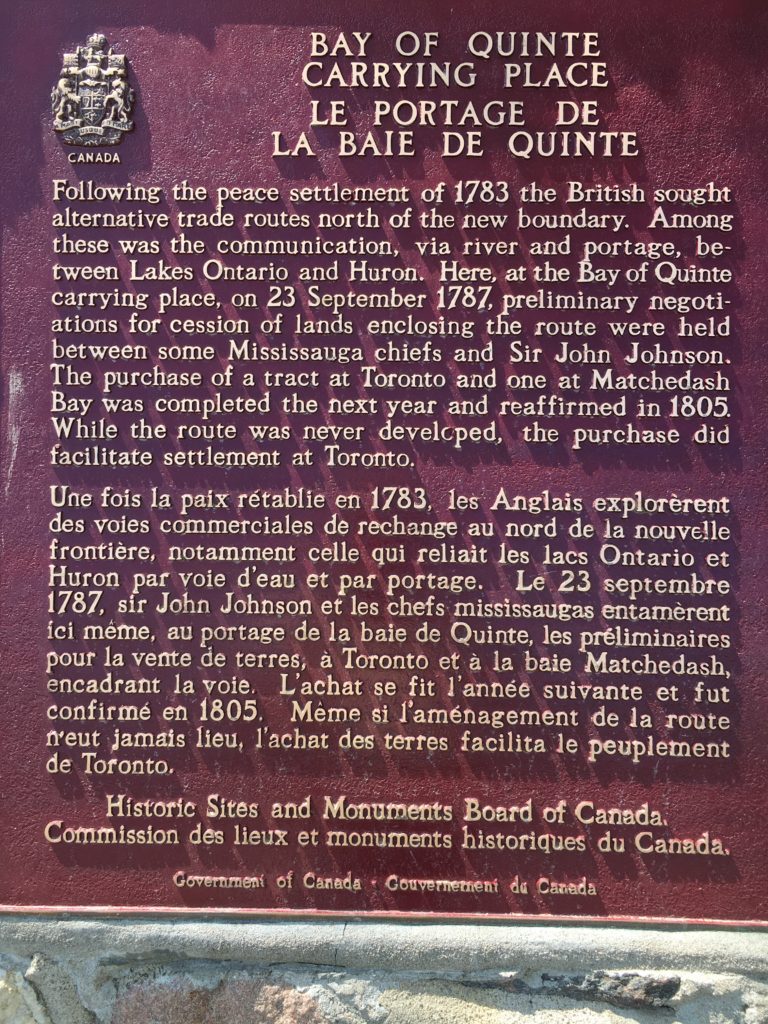 Prior to The Gunshot Treaty, Carrying Place had been significant to many cultures. Long before Champlain came this way, before the fur traders and before the missionaries of the 17th century, native people portaged their ves­sels from the great lake across a narrow neck of marshland to the gentler wa­ters of the bay that would someday be called Quinte. By and large, the region remained free of Caucasians until the 1780s.
It is not known what the first people who lived here called this portage route. The Mississauga First Nation called it "de-ga-bun-wa-kwa," meaning "I pick up my canoe". English-speaking Europeans called it the Carrying Place and the name stuck.
In the decades that followed The Gunshot Treaty, Carrying Place became a commercial route connected by a stagecoach service operated by Asa Weller and a major shipping route with the construction of the Murray Canal in the late 1880s. But in the 1780s, it was simply a well-known landmark, ideally suited as a gathering place for treaty talks.