THE BUSINESS CASE FOR HERITAGE 
History Lives Here at the 2014 Economic Revitalization Conference
In recent years, The Monieson Centre at Queen's University in Kingston, Ontario has hosted an annual summit on rural economic development bringing together academics, economic development specialists, and government and private business stakeholders to share research and best practices.
At this year's conference held April 8th at the Kingston Waterfront Holiday Inn, History Lives Here Inc. was invited to present the business case for heritage.  Key excerpts from our presentation re-stated our belief that rural communities across Canada are losing their built heritage and special places – the physical expression of the past – because old landmark buildings, barns, rural spaces, cemeteries, and museums are viewed as municipal loss leaders and "heritage beggars" rather than critical business assets within their communities. Matters will be become worse over the next five to ten years as many volunteer groups currently maintaining heritage properties age and become unable to continue this work. Municipalities should be concerned about the many implications of the aging demographics of their communities as many volunteer groups now raising money for a wide range of worthy community causes – including heritage preservation – will soon simply fade into the past.
That's certainly the case in historic Prince Edward County, a community rich in history that is now a largely retirement area nestled along the northern shores of Lake Ontario. While there have been some restoration success stories as volunteers rallied to save historic properties, the fact is the community cannot save buildings as fast as it is tearing them down.  In 2010, an old Methodist Church built in 1875 along the Main Street of the community's major centre of Picton, a town of 4,000 people, was torn down in a spectacular example of what can happen in the absence of any community vision and plan to maintain its heritage infrastructure. As horrified onlookers watched a demolition crew gut this graceful old building, municipal officials had no policy, no money, and no means to intervene. Years later, the site is now a vacant lot up for sale and there is still no heritage strategy in place in the community. And there are now other significant properties at risk with more to come.
Our solution is that communities develop a Heritage Economy, the concept that local history and heritage can be transformed into a suite of goods and services retailed to the world – bus and walking tours, specialty foods and drinks, crafts, conferences, festivals, antique shows, plays, videos, and other events, which celebrate local history while creating locally made products retailed online to heritage consumers.
There is a marketplace for history. Every month, 68 million people around the world Google the word "history".  The History Channels in the United States and Canada exist as businesses linking advertisers with boomer consumers interested in history. Ancestry.com makes $28 million/month from its 1.7 million subscribers accessing the company's extensive genealogical database. The small town of Gettysburg, Pennsylvania makes nearly $400 million annually and has created 5800 jobs from its yearly influx of three million visitors coming to hear the story of three days of history forged during the American Civil War in the 1860s. So why don't we tell our stories to the world as an economic driver in our communities?
Over the last decade, History Lives Here has been working closely in our hometown of Prince Edward County to encourage new strategic partnerships for a collaborative community effort to celebrate our history and to kick – start the Heritage Economy. We have developed walking tours and are now expanding into bus and tall ship tours with local bus lines and Brigantine Inc. of Kingston, a non-profit organization operating a 70-foot square rigger, the St. Lawrence II. Beginning in June 2014 with a pilot tall ship adventure cruise to Picton, we plan to develop regular tall ship cruises between Kingston and Picton in 2015.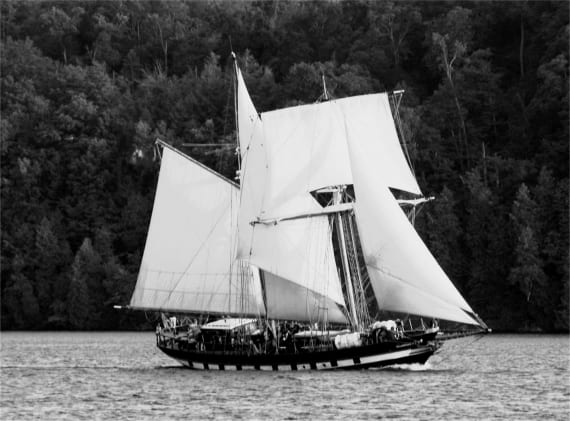 We have developed a fall/winter series on local history themes, and an annual video series called The History Moments, two-minute video vignettes on early settlement, first industries, prominent people and significant events, which have profoundly shaped the history of the area. The History Moments play before movies at local theatres, on regional television and cable stations, are broadcast online on the websites of sponsors and community partners, are distributed into area schools as learning resources, and retailed as DVDs at local shops. They are an important first heritage product in awakening the community to the history that is all around us.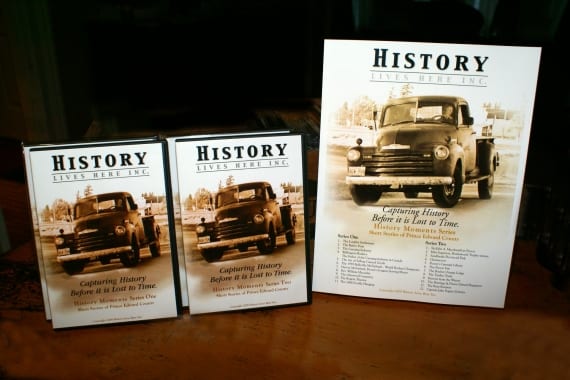 Prince Edward County is Canada's newest wine region. In partnership with the Black Prince Winery of Picton, we have developed History Lives Here wine, and we are working with our local artists and businesses to develop other heritage products.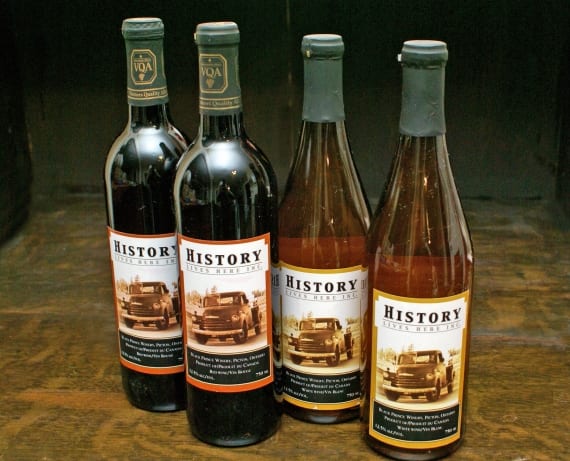 Heritage isn't free. It's come at an enormous cost to those who gone before us. I think we owe them something. We should remember them always, tell their remarkable stories, and we should be stewards of the past in our lifetimes. But we need to think bigger, act more boldly, and work together to develop a business that transforms the dormant asset in every community – our history and heritage – into a product line retailed to the world. Old approaches such as bottle drives, bake sales, and annual dinners with silent auctions will never raise the money required for heritage preservation. We need to develop a Heritage Economy.