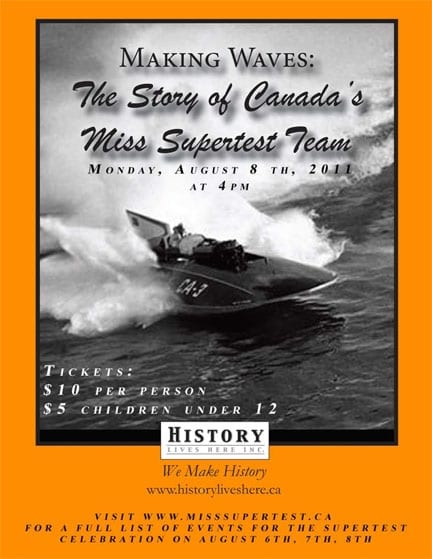 DOCUMENTARY ON LEGENDARY BOAT MISS SUPERTEST PREMIERES IN PICTON
(PICTON, ONTARIO) MAKING WAVES: The Story of the Miss Supertest Team, will premiere at The Regent Theatre in Picton at 4 pm. on Monday, August 8th 2011 as part of a three-day event to celebrate the Canadian racing hydroplane Miss Supertest III.
In August 1960 and 1961, the waters off Picton churned as unlimited class hydroplanes thundered across Long Reach leaving sprays of wake – or "rooster tails" – as they sped by thousands of spectators watching from the shore. These were the Harmsworth International Races. In 1959, 1960, and 1961 a Canadian boat named Miss Supertest III swept to victory against her American competitors in races in Detroit and Picton to establish a record of successive championships that has never been matched by another Canadian boat.
To celebrate this Canadian sports history, a weekend of exhibits and events will be held at the Loch Sloy Business Park in Picton – once a military base known as Camp Picton. On Monday, August 8th, Canada Post will launch a commemorative stamp in honour of the boat. Later that afternoon, the documentary on the Supertest story will premiere at The Regent Theatre in Picton. See http://www.misssupertest.ca for a full list of events.
"The launch of the Canada Post commemorative stamp and this weekend celebration is a once-in-a-lifetime opportunity," says Peter Lockyer of History Lives Here Inc., the Picton-based communications firm, which produced the documentary. " I attended the Harmsworth races 50 years ago and they have endured as an exciting moment in the maritime heritage of the area. It's a privilege to re-live this rich history and to contribute our documentary on the Supertest team as part of this community celebration."
MAKING WAVES: The Story of the Miss Supertest Team traces the early days of the Thompson family of London, Ontario, owners of the Supertest chain of gas stations across Canada, as they entered the world of international hydroplane racing in the 1950s. Although they faced a number of engineering challenges and heartbreaking setbacks before achieving success with their boats Miss Supertest II and Miss Supertest III, the Thompsons and their team won a series of three consecutive world titles.
"They made sports history," says Lockyer. "The design of their Supertest boats, the Rolls Royce engines which powered them, drivers like Bob Hayward, and the other members of the team achieved greatness. They deserve to be celebrated for what they did especially at a time when Canadians were so uncertain of their place in the world."
DVD copies of the documentary MAKING WAVES: The Story of the Supertest Team can be purchased at The Regent Theatre or online at Books & Company in Picton http://www.PictonBookstore.com
Formed in 2004 by former CBC broadcaster Peter Lockyer, History Lives Here Inc. provides a wide range of communication services for businesses, industry associations and communities celebrating significant anniversaries. 
For more information, contact:
Peter Lockyer History Lives Here Inc.
74 West Mary St., Picton, ON KOK 2TO
Tel: 613 – 476 – 3356
Email: historyliveshere@bell.net
Website: http://www.historyliveshere.ca
MAKING WAVES: The Story of the SupertestTeam