Join us on Monday nights throughout the fall and winter of 2012/2013 for monthly History Nights at The Regent Theatre.   
Our first History Night features Greg Curtis of Kingston, a member of the international Titanic Historical Society, discussing the sinking of the Titanic.   
When Greg was a young boy, he received a lump of coal for Christmas….and he was thrilled to get it. The small piece of coal had been recovered from the Titanic wreck and it further encouraged his life-long interest in this great ship.  
This year marks the 100th anniversary of this dramatic maritime disaster in April 1912 off the coast of Newfoundland. The Titanic was a titan of its time and one of several massive floating luxury hotels built by its owners, the White Star Line, in response to new and larger vessels constructed by their rival, The Cunard Line. Promoted as unsinkable, this great ship made history on its maiden voyage from Southampton, England to New York when it struck an iceberg at high speed late on the evening of April 14, 1912. Within just a few hours of the collision, the Titanic split apart from the great weight of water filling its holds and at 2:20 am on the morning of April 15th, it slipped beneath the waves to a final berth in the deep, cold waters of the Atlantic.  
The Titanic was full of mysteries. The vessel had received plenty of ice warnings and yet it cruised close to top speed. The first lifeboats were nearly empty when they were lowered. Later lifeboats were dangerously overcrowded. Most of the ship's 2,240 passengers perished. Some were traveling under false names to escape past lives. Survivors went on to live lives that were both celebrated and infamous. And it's sinking a century ago remains an enduring tale that has inspired multiple movies and books.  
Join us at The Regent at 7 pm on Monday, November 12th, 2012 for this first History Night at The Regent!  
Call the Regent Theatre Box Office for Tickets: (613)476-8416 ext 28 or toll free (877)411-4761 or use the form on the box office website www.theregenttheatre.org
Admission is $15 (including tax.) Students $5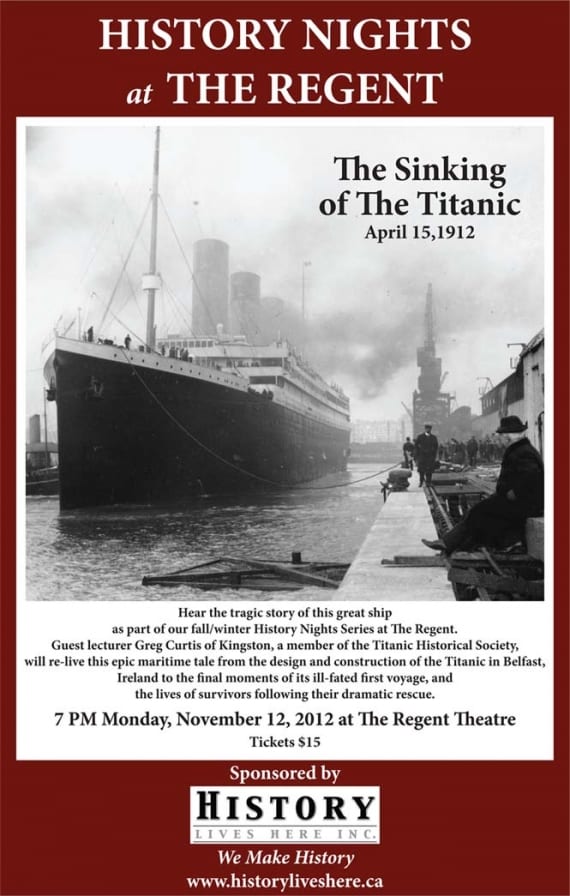 Future History Nights include: 7 PM Monday, January 7th, 2013 – The War of 1812 by one of Canada's leading military historians, Maj. John Grodzinski, Phd. and Assistant Professor, The History Department at the Royal Military College in Kingston 7 PM Monday, February 4th, 2013 – The War in Afghanistan from an Afghan Perspective by Toronto author and filmmaker, Nelofer Pazira, who escaped Afghanistan with her family to re-settle in Canada 7 PM Monday, March 4, 2013 – Patrice Dutil of Ryerson College and The Champlain Society traces the epic voyage of French explorer Samuel de Champlain through the Quinte area in 1615 7 PM Monday, April 1, 2013 – A Gettysburg Address: Meet members of the Gettysburg Foundation as they discuss the marketing of history